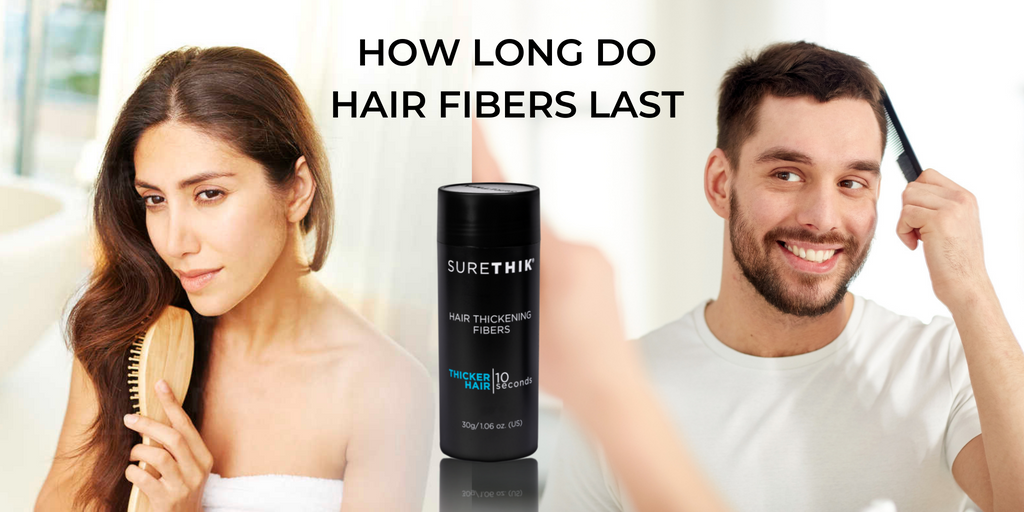 How long do hair fibers last?
SureThik Hair Building Fibers are a fantastic way to rapidly make your hair look thicker and fuller. They aren't permanent hair fibers, but they do last a long time. SureThik Hair Fibers will stay in your hair till you shampoo it again if applied appropriately. We're sure you've wondered not just how long hair thickening fibers last, but also how to make them last even longer if necessary. How long will the fibers stay on your hair, as well as how long will a bottle last? Without further ado, check out the facts, advice, and specifics below!
Not all Hair Fibers are made the same!
So keep that in mind when choosing hair fibers: choose a brand with a high-performance formula, which will not only help them last longer on their own, but will also ensure that they won't smear and smudge when you sweat or are exposed to rain, humidity, wind, and other elements.
Tips to pick a long-lasting hair fiber:
It should come as no surprise that hairstyling may be difficult for persons with fine, thin hair or regions of hair loss. For example, several of today's most popular hairstyles, such as the pompadour for men and the side-parted bob for women, are best suited to persons with fuller, thicker hair.
Choose a keratin-made fiber, as opposed to a cotton (or other materials) keratin-made fibers, are superior in quality and performance, for example, SureThik Hair Fibers are made with natural organic keratin, which is also electrostatically charged, allowing them to naturally blend with your hair, and stay in place all day long.
Choose a High-Performance Thickening Fiber: This will keep your fibers from smudging, smearing, or moving about during the day, letting you to go about your business as usual. High-Performance Fibers will remain put during your workout or if you're out and about and the weather isn't cooperating (rain, snow, wind) High-Performance fibers will not smear or move about and should remain in place until shampooed off. High-performance fibers are ideal for the present summer weather since they maintain their natural appearance even in direct sunlight and are unaffected by humidity.
Pick a bottle size that fits your needs: Depending on how many noticeable signs of hair loss or thinning you want to conceal, is how long your bottle will last. Usually, a 15g bottle will last an average of 30-40 days, and a 30g bottle an average of 60-80 days, but of course, this depends on how much hair loss you have. We recommend you track down how long a bottle lasts for the area that you want to cover, so you can get exactly the size you need in the future.
How to make my fibers stay longer on my hair?
Hair fibers are excellent for concealing hair loss. The hair fibers are formed of keratin, the same protein found in human hair. These hair fibers stick to your current hair, giving it a fuller appearance and hiding bald areas. As a result, hair fibers are frequently referred to as hair camouflage or hair concealer.
After using Hair Thickening Fibers, use this medium hold, high gloss finishing spray.
Holding Spray strengthens the link between natural hair and hair fibers. Because the fibers leave a matte finish, the spray restores shine to the hair and, unlike standard hair sprays, may be combed for up to 15 seconds before setting.Spray 2 – 4 pumps evenly over the required region once SureThik Hair Thickening Fibers are in place and hair is groomed. The Holding Spray takes 15 seconds to fully set. If required, continue to style your hair.The combination of high-performance hair fibers and the extra added strength of the holding spray will ensure that your fibers stay exactly where you apply them, mess-free, and last through any activity, even those where it's guaranteed you'll be exposed to sweat, water, heat, snow, rain, strong winds, and other elements, your fibers will stay on, allowing you to rock your fuller hair no matter what.
Fibers have no side effects and do not interact in any way with other hair growth treatments and can even be used by people with hair transplants! this also applies to the SureThik Holding Spray, so you can be comfortable and trust that your thicker hair is not going anywhere.
And the best part, you can get your hair fibers and the holding spray at a discount when you buy a bottle of fibers + the holding spray together. Check our packages here!
If you are unsure, you can always try any SureThik products with ease, as we count with 100% Money Back Guarantee, so you can shop and try with peace of mind, and zero risks!