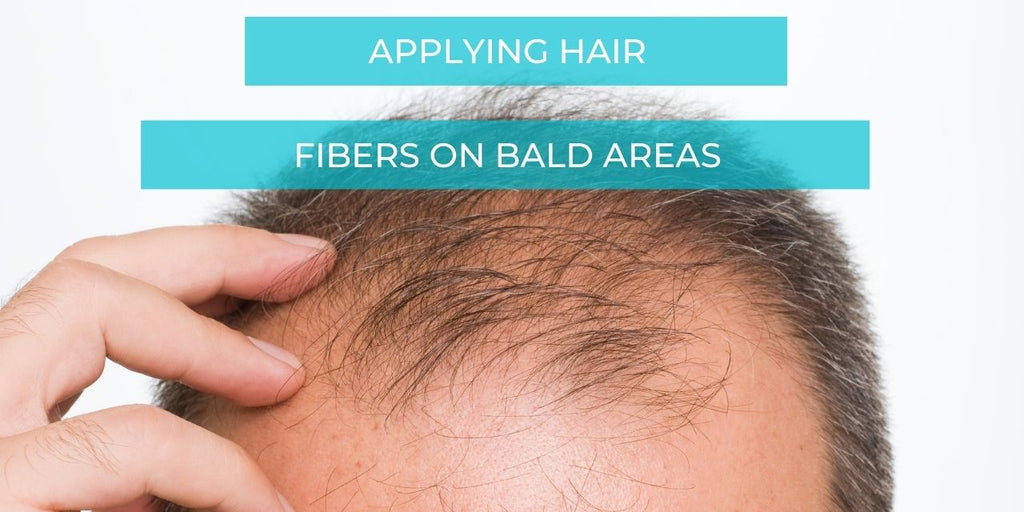 How to Apply Hair Fibers on Bald Areas
What can I do if I become bald? It's the topic that no one likes to have. The terrible reality is that most people will develop pattern baldness at some time in their lives.

Genetics usually determines when baldness begins and how much hair we lose. Even while most of us recognize that pattern baldness is a major concern, many men fail to take action while there is still time. 
We've compiled a list of six frequent indicators that you may notice if you're experiencing hair loss due to male pattern baldness.

We've also covered how to protect your hair follicles from future harm and, in some situations, restore hair that's been lost.
Am I Going Bald & What Are The Signs?
1. Receding Hairline: 
Male & Female pattern baldness is characterized by a receding hairline. Unfortunately, it's also an indication that many men ignore until it's too late, either because they don't notice it developing or because acknowledging it isn't particularly nice. When some haircuts show more of your forehead than you're used to, you may discover that your hairline is receding.

Alternatively, you may see your hairline forming an M-shape while washing or drying your hair (which appears to be bald on top with hair on it).
Hairline receding around the temples is rather common. The pattern normally worsens over time, until your hairline in the center is lower than it is on the sides. According to an essay in the book Androgenetic Alopecia, around 25% of males between the ages of 40 and 55 have this sort of hairline.

According to the same article published in the book, Androgenetic Alopecia, general hair thinning is prevalent, with about 31% of men aged 40 to 55 showing signs of vertex baldness.
2. Hair Shedding: 
This may seem self-evident, but excessive hair shedding is a common symptom of hair loss. Unfortunately, it's all too easy to miss this sign. Because natural hair loss happens as your hairs exit the last phases of the hair development cycle, most people lose roughly 100 strands of hair every day.

Finding a few hairs on your hairbrush or pillowcase doesn't necessarily imply you're going bald, because some hair losing is natural.

When you notice a lot of hair about the house or caught in the drain of your shower, it's usually an indication that you should start looking into hair loss treatments.
3. Hair Regrowth Taking Too Long? 
The hair on your scalp grows roughly six inches each year, so every couple of months you'll get about an inch of new hair.

There are currently no scientific studies that suggest that male pattern baldness influences hair growth speed.

Because male pattern baldness can impact your hair count, it may take a bit longer for your hair to grow back to its normal look following a short haircut. You could also notice that your hair doesn't seem to grow as thickly as it used to, which is due to DHT-related hair follicle damage.
 4. Alopecia: 
Alopecia areata is an autoimmune disease that causes your hair to come out in clumps the size of quarters. Hair loss varies in severity from individual to person. Some people just lose it in a few spots. Others suffer substantial losses. Hair may regrow, but it will eventually fall out again. Hair regrows permanently in others.

There are several kinds of this disease. The most prevalent variety of alopecia areata is the most common, although there are other, less common types as well: 
Alopecia Areata: 
Hair loss is a sensitive subject, but knowledge is power. Learning more about the various types of hair loss will help you better understand your own condition and find appropriate solutions. Alopecia areata is a common autoimmune skin disease that causes hair loss on the scalp, face, and occasionally other regions of the body, according to the NAAF. In fact, it affects up to 6.8 million people in the United States, with a lifetime risk of 2.1 percent. 
To read more on this topic click here:
What Are My Options? 
Hair Building Fibers: 
Fiber concealers, the most popular of the three, employ natural or chemically generated fibers to make hair appear thicker. Cotton, wool, keratin, or actual human hair are commonly used in these items. What keeps the fibers in place? They stick to the scalp and surrounding hair through static electricity. Although this may not appear to be very secure, most fiber concealers are engineered to withstand wind, water, and other weather conditions—plus, hairspray can improve their grip. They're also more convincing than liquid and powder versions, especially if someone is looking at your hair closely.
SureThik is a simple and effective way to conceal areas of hair loss. The keratin fibers are ideal for imitating natural hair. It will help you conceal spots of hair loss and boost your confidence. 
HOW TO APPLY HAIR FIBERS ON BALD AREAS: 
To use SureThik fibers on a big area, gently shake the container to let the keratin powder to travel through the sieve and land on the hair their electrostatic charge will lead them to cling to the natural hair, instantly giving it a fuller look.
In addition, rather of applying a large number of hair fibers all at once, apply them in layers over time. To distribute the fibers, apply a coating and spread it out with your fingers, or softly brush the hair with a coarse brush. Decide whether added fibers are needed and, if so, apply them. This should be repeated until you are happy with the results.
Large area: To use hair concealer on a big area, gently shake the container to let the keratin powder to flow through the sieve and land on the hair: their electrostatic charge will lead them to cling to the natural hair, instantly giving it a fuller look.
For more tips you can visit: How to Apply Hair Building Fibers
What Are The Benefits Of Hair Building Fibers? 
The most important (and obvious) advantage of utilizing a hair loss concealer is that it rapidly conceals bald areas. Hair loss medicine can take months to show effects, and many men would rather avoid the wait and utilize something that will instantly thicken their hair. (That's not to say you can't use both—efficiency minoxidil's is unaffected by hair loss concealers or other styling products, so you can wear a cover-up while you wait for results.)
Concealer is less expensive, easier to use, and requires less commitment than longer-term therapies like medicine and procedures like PRP or hair transplants after all, you can just wash it off at the end of the day.
That makes them an excellent alternative for men who aren't sure what to do about their hair loss (or simply need a quick fix while their medicine takes effect), as well as those who want to temporarily thicken their hair but don't mind their thinning mane. For example, an actor may want a full head of hair for a job yet be perfectly content to wash off the synthetic locks once the shoot is over.
Overall, hair loss can be a difficulty, and finding strategies to help with regeneration can be a long process. If you've tried everything to address your hair loss and still aren't getting the results you want, you might want to consider a hair transplant or wigs.