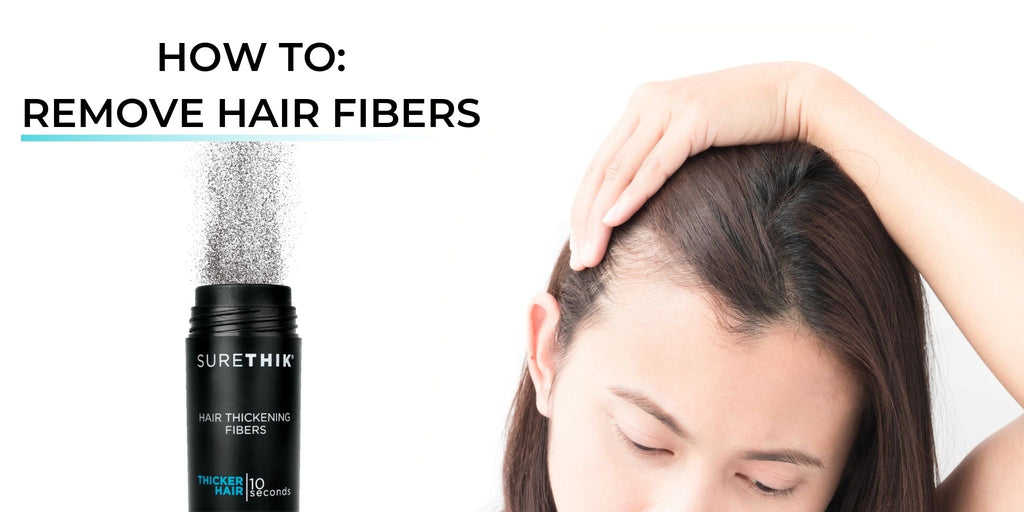 How To Remove Hair Fibers?
Hair loss or evening hair thinning may be frightening. It can undermine your self-esteem and devastate your life. If you're reading this, chances are you're suffering from hair loss. The various reasons of hair loss, also known as alopecia, might include stress, years of hair styles that pulled the hair, and even inherited abnormalities passed down in our family biology.
Have you ever used a powder to disguise your hair? If you're seeking for a natural approach to conceal bald spots, hair building fibers could be the answer. SureThik Hair Building Fibers will rapidly disguise fine or thinning hair by giving it a thicker appearance. SureThik Inc.'s Hair Building Fibers are a terrific technique to quickly provide the appearance of thicker, fuller hair. The results aren't permanent, but they last a long time. But first, let's go through some of the most prevalent queries concerning hair loss concealer.
Are Hair Building Fibers Messy? 
Water is not a problem for hair fillers. They won't run, stain, or smear in the rain, and they'll wash out with almost any shampoo. Some threads may escape when you leap into a pool, but they will not run or smear; instead, they will just disappear. There are two main concepts that need to be understood as to why and how
When wet, SureThik hair fillers are water-resistant and will not run, stain, or smear.
High-performance fillers that are sweat-resistant are ideal for anyone who is active daily.
Unlike other products, SureThik fibers do not stain or run and when ready to have a fresh start you can just shampoo the hair to remove in fillers on the hair.
Keratin fibers are 100% natural and blend in seamlessly
It feels and looks more natural then synthetic
 Micro-sized fibers that are precisely cut and uniformly dispersed with no clumping
How About Fibers Overnight? 
This is a frequent worry that any filler user may have; we do not wash our hair every day, and after a long day, we wonder whether the fibers will be safe for a wonderful rest, and then we wonder about the substance sitting on my hair for long hours. "Can it rub off on pillows or bed sheets?" you may wonder.
SureThik consumers may be certain that there will be no fiber
 fallout due to the technology underlying our fibers. SureThik features a high-performance formula that ensures an exceptional long-lasting formula that is resistant to perspiration, wind, and rain until washed off.
How Do You Remove Hair Fibers? 
What we all have been waiting for! the number one asked question we get is, "How do I remove the fibers of my hair?" The answer to the question is simple and easy!
SureThik uses simple technology called electro-static charged concealer that allows for fibers to sit naturally on the hair without fallout, will now break down what the "term" means: 
ELECTRO-STATICALLY CHARGED FIBERS
Electrostatically charged fibers easily adhere to the hair.
No harsh chemicals are used in the SureStay solution, and fibers stick naturally.
For a more realistic look, it attaches to individual hair strands and the scalp.
When you're ready to get rid of the hair filler powder, just wash your hair with Surethik' s Root Penetrating Shampoo & Conditioner, which is a mild thickening shampoo. This is a sulfate-free, deep-cleansing, and strengthening product created exclusively for men and women. Our Root Penetrating Shampoos clean and rejuvenate the scalp by penetrating deep into the follicle without the use of toxic sulfates. Hair that has been dyed or chemically treated is safe to use.
Our Boost Conditioner is rich with nutrients and botanicals that support healthy hair and scalp for both men and women. It is free of parabens, revived, and moisturized. Antioxidants aid in the hydration, strengthening, and rejuvenation of weak or damaged hair. This mild conditioner helps thicken fine and thin hair into thicker, more manageable strands.
Tip: For some people, rinsing and repeating or shampooing twice isn't necessary. You'll need to consider your hair kind as well as how well you rinse. Leaving any product in your hair may make it seem stringy and oily, which isn't appealing.
Similarly, if you have an oily scalp, you may discover that washing only once is insufficient to remove all the oil. This is the most important reason to rinse and repeat.
The benefit is that you'll get rid of excess oil while still giving your hair the hydration and minerals it requires. Or simply washing twice will help you get rid of the fillers on your scalp.  If you've never tried rinsing and repeating before, you'll notice that after a few times, your hair will be changed.
Shampoo cleanses deep into the pore to drop build-up, which is necessary for healthy hair and scalp regeneration. Our tri-cleansing chemicals unclog pores and supply thorough cleaning by dropping excess sebum and debris that might harm the follicle. Therefore, following treatment, the hair is smooth and manageable. Furthermore, antioxidants help to strengthen weak or damaged hair from the roots up. The hair and scalp are left feeling clean and revitalized. After each wash, the scalp will be free of toxins, germs, sebum, and debris.
With premium, nutrient-rich ingredients, this lightweight product hydrates, nourishes, and strengthens your hair. Aloe, Argan, Moringa, Jojoba, and Sweet Almond oils, as well as Panthenol, Zinc, Nettle, and a variety of natural extracts, help to strengthen, add volume, and shine to hair, and make it feel smooth and luscious without weighing it down.