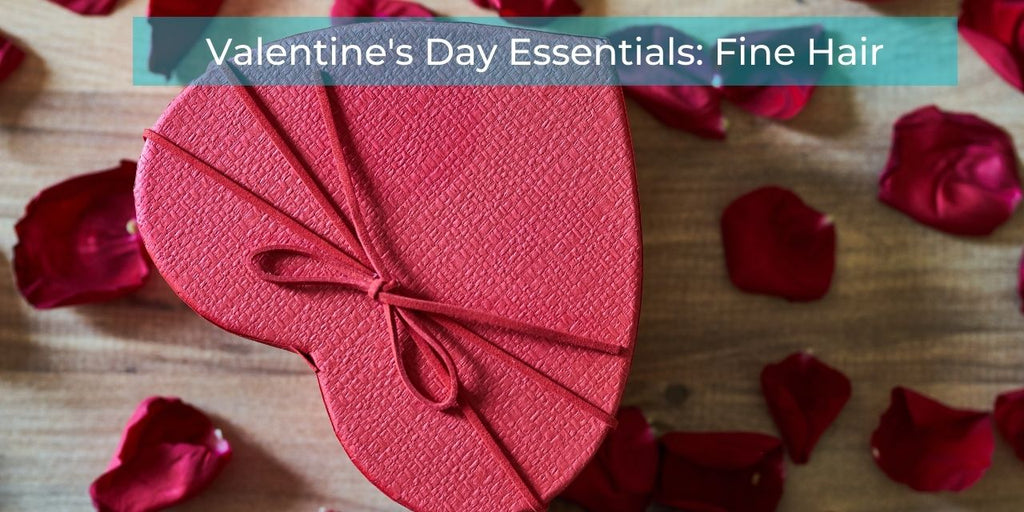 Valentine's Day Essentials: Fine Hair
Every day, there are several occasions to honor love and friendship. Valentine's Day, on the other hand, is an occasion for expressing all of those feelings in an especially unique way. That complements your appearance.

Valentine's Day is arriving quickly. You may have already decided on a date-night dress, but what about your hairstyle? Continue reading if you need some help deciding on the perfect date hairdo! Today we're going to show you our favorite Valentine's Day Essential for healthy hair! In addition, we'll explain how SureThik Hair Building Fibers may help you achieve the ultimate Valentine's Day hair.
DRY HAIR: WHAT ARE THE CAUSES? 
Dry hair is one of the most prevalent hair issues for fine hair, regardless of length or texture.

The reasons of dry hair varies, and how to treat dry hair will change for everyone, depending on a variety of circumstances. Dry hair can be caused by the weather, medications, or heredity. Whatever the cause of the problem, the cure boils down to knowing how to moisturize dry hair—and believe us, we have some simple solutions for you.

The greatest way to repair dry hair is to first ask yourself, "why is my hair so dry?"
WHY IS MY HAIR DRY? 
A variety of environmental and internal causes might contribute to dry hair. External influences include the temperature (cold weather = drier hair), how frequently you wash your hair (over-washing may strip the hair of its natural oils), the hair products you use (do they include alcohols and drying agents? ), the hair tools you use, and chemical styling and coloring. Internal influences include what you eat, how well you drink, any drugs you are taking, hormone abnormalities, and even heredity. Let's get a little more into this.
COLD WEATHER: 
Let's start with the most common—and often overlooked—factor: the weather, and more especially, the air. There are different seasons and temperatures, and if you're in the fall/autumn season right now, the temperatures are lowering. The colder the weather, the drier the air, not only taking moisture from your hair but also leaving it dull, brittle, and prone to split ends.

The absence of humidity and decrease in moisture in the air also generates static electricity, which causes static hair to stick to your cold weather accessories and clothing.
HEAT STYLING: 
Heat styling can be a regular fixture of many people's hair care regimen. Hair dryers, straighteners, curling irons and other heat styling devices litter the counters of many bathrooms. Excessive heat or improper care can cause some serious damage to your lustrous locks. The damage caused from improper heat styling techniques can range from excessive fly-away and brittle, dry feeling hair all the way to burnt and singed hair or even hair loss.
HAIRSTYLES FOR FINE HAIR! 
Fine hair might be prone to looking flat, but with a few professional style tips and tricks, this doesn't have to be the case. There are many various hairstyles for fine hair (it's really easier to style than you think!) — the trick is to add texture and layers to add volume, as well as to use the proper products.
1. CLASSY SLEEK BUN 
Most of us would agree that we've been taking things a little too easy lately. Of course, it depends on your area of work, but the overall trend of working from home has led to all of us studying ways to look fantastic and professional while putting in a little less effort in the morning. And why shouldn't they?
Ponytail: 
1. Cut the bangs off (vertically from ear to ear)
2. Part the hair in the back and tie it into two separate ponytails. The top ponytail should be as high as possible, just over the crown of the head or diagonal to the ear. The second ponytail should be placed slightly below the center of the ear.
3. Now, using the leftover hair in the bangs, make your third ponytail.
4. Now it's time to start teasing, teasing, teasing! Tease all of the hair from each ponytail by pulling little (1 inch thick) sections of hair from each ponytail and teasing about 1/4 of the way up.
5. Bring each teased piece down one at a time, hairspray the tease, distribute the tease, and comb it down gently to control the frizz while putting your palm under the tease to maintain volume.
6. Finally, you'll need to hide the elastic band. The top ponytail's elastic band is the only one that has to be covered. Simply wrap a short piece of hair around the top ponytail to hide the elastic band. Position a bobby pin in place.
2. CUTE WAVY LONG PONYTAILS: 
A lovely Valentine's Day hair updo is a terrific way to commemorate the day. The half-up, half-down, often known as a half ponytail, is an underappreciated hairstyle that is ideal for Valentine's Day. While the updo is basic in itself, you can style it in a variety of ways depending on the occasion, your mood, or the amount of effort you want to put in.

For Valentine's Day, how about a flirtatious hairstyle? Check out our video for instructions on how to accomplish this adorable look!
SURETHIK HAIR BUILDING FIBERS: 
Hair Fibers were developed as a quick, simple, and effective hair loss treatment. Each of our products has been clinically designed for men and women who have thinning hair, thinning portion lines, or bald areas on the scalp. Our solutions, which are designed and manufactured in North America, will provide a simple answer to your hair thinning issues.
Use code VALENTINE22 for 20% off your purchase! Valid until February 14th at midnight, not applicable for already discounted packages.

Are you eager to revive your hair and try SureThik's excellent recipe, but aren't sure where to begin? We have a fantastic Hair Fiber Starter Kit that includes all of the equipment you'll need to rejuvenate your natural, thinning hair in no time!
You have nothing to lose by shopping our award-winning hair products line today, with our 30-day money-back guarantee!