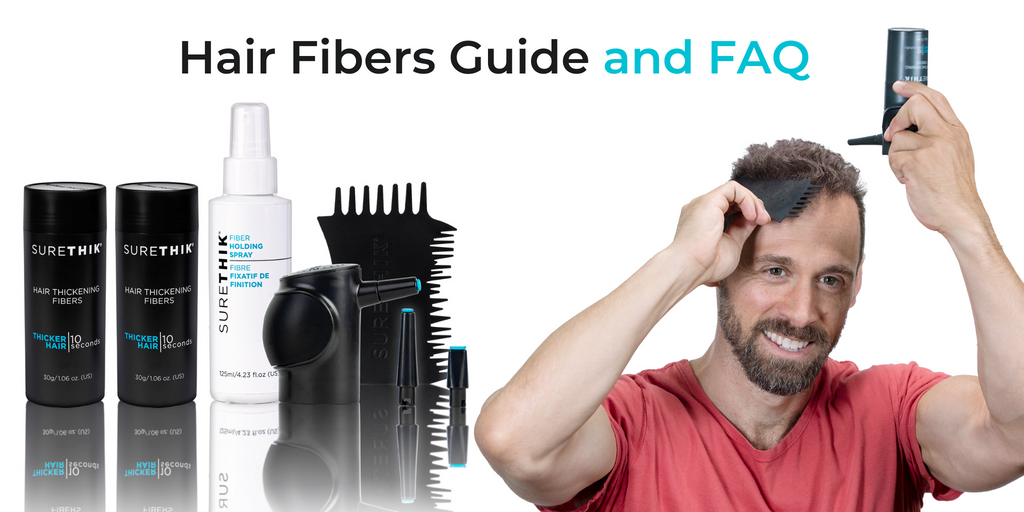 Hair Fiber Guide: FAQ
Have you noticed that there are more hairs on your brush, pillow, or around your shower drain than usual? It's never fun to deal with hair loss, especially when you don't know what's causing it.
Most of the male and female hair loss is caused by androgenic alopecia, often known as male pattern baldness, which is a kind of hair loss caused by a hereditary susceptibility to DHT.
However, there are a variety of additional conditions that can cause or contribute to hair loss.
Emotional stress is one of these factors. If you're stressed out about job, your personal life, or anything else, it's conceivable that your stress is causing modest hair thinning or major hair loss.
Hair fibers are an excellent way to conceal hair loss and fine hair on the head fast and efficiently. Because of their electrical charge, they cling to natural hair, instantly thickening it and adding volume and a filling impression.
They've become a near-essential solution for individuals who wish to cover up bald spots without resorting to invasive treatments like transplantation or Trico pigmentation, but they may also be used to finish off a look or fill in part lines.
SureThik hair filler are the only ones on the market that are entirely constructed of natural keratin, with no colors or preservatives added to prevent allergic reactions.
Let's go through all our suggestions and your most FAQ so you can put them to good use and achieve the greatest result
HOW TO USE SURETHIK FIBERS:  
Hair Building Fibers are fantastic for anyone who wishes to conceal their thinning hair problem. These keratin-derived fibres are safe and blend seamlessly with your own hair to give it a thicker, fuller appearance. SureThik will walk through 4 easy steps on how to use hair fibers.

1. APPLY ON DRY HAIR:
 It is vital to ensure that hair fibers must be applied on dry hair to guarantee uniform distribution; this avoids the fibers from clumping on the scalp. Dry hair also allows you to take advantage of the electrostatic charge of the fibers to form a strong bond with natural hair and ensure an excellent grip.  Static electricity helps the hair fibres stick to the existing hair. It is recommended that the hair fibres be applied when the hair is dehydrated for the best adhesion. Furthermore, when applied to wet hair, the fibres may become lumpy.
2. USING THE FIBERS IN LARGE AREAS:
To apply SureThik fibres to a large area, gently shake the bottle to allow the keratin powder to pass through the sieve and rest on the hair: their electrostatic charge will cause them to adhere to the natural hair, giving it an instant fuller appearance.
In addition, rather than applying many hair fibres in one go, use them in layers in several stages. For example, apply a coating, spread it out with your fingers, or lightly brush the hair with a coarse brush to spread the fibres. Determine whether more fibres are required, and then apply more if necessary. This should be done until you are satisfied with the outcome.
3. USING FIBERS IN PRECISE AREAS
When utilizing keratin hair fibres, the hair fibre applicator is a must-have accessory. It's a device that can be attached to a hair fibres container. The applicator ensures that the hair fibres are administered more accurately to the places where they are thinning. It also makes uniformly dispersing the fibres easier. As a result, the applicator has a more natural appearance and is also more environmentally friendly.
Fiber Applicator is ideal for covering extensive areas and hairlines with fibres. Gives you the evenest coverage for a very natural appearance. The Hairline Tool makes creating a natural-looking front hairline a breeze.
Large area:
To apply keratin fibres to a large area, gently shake the bottle to allow the keratin powder to pass through the sieve and rest on the hair: their electrostatic charge will cause them to adhere to the natural hair, giving it an instant fuller appearance.
4. HAIR FIBER SECURITY:
Hair fibres are highly adherent to your own hair. Fiber hold spray can help to improve this by ensuring that the hair fibres remain longer. The fibre hold spray is a fine mist designed to strengthen the bond between keratin hair building fibres and your own hair, resulting in a longer-lasting result!
This high-gloss, medium-hold finishing spray is best used after applying Hair Thickening Fibers.
WHAT IT DOES: SureThik® Holding Spray strengthens the link between natural hair and the fibres of the hair. Because the fibres leave a matte finish, the spray restores to the hair and, unlike standard hair sprays, can be brushed for up to 15 seconds after application.
Tips:
Spray 2–4 pumps evenly over the required region once SureThik Hair Thickening Fibers are in place and hair is styled. The Holding Spray takes 15 seconds to fully set. If required, continue to style your hair.
For further information and video tutorials, go visit our How to Apply page.
HOW LONG DO SURETHIK HAIR FIBERS LAST?
We're sure you've wondered not just how long hair thickening fibers last but also how to make them last even longer if necessary. For example, how long will the threads stay on your hair, as well as how long will a bottle last? Let's look and answer this question!
SureThik Hair Fibers are made of natural organic keratin that is also electrostatically charged, letting them to blend in seamlessly with your hair and remain put all day. Select a bottle size that meets your requirements: How long your bottle will last depend on how many visible indications of hair loss or thinning you wish to conceal. For example, a 15g bottle will usually last 30-40 days, and a 30g bottle will last 60-80 days. However, this can vary depending on how much hair loss you have and if used daily.  For more detail on how long SureThik bottle last be sure to check out our blog!!!