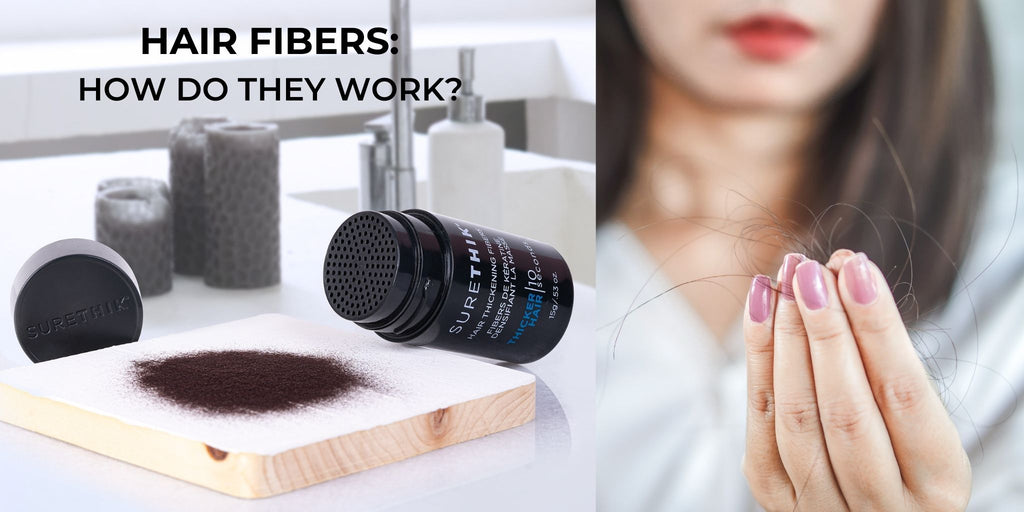 Hair Fibers: How Do They Work?
Accepting pattern baldness is a tough thing for many of us to do. Many men's first reactions to hair loss include annoyance, despair, and denial. There are temporary solutions that can help increase ones confident, with hair building fibers are one of the most effective ways for concealing hair loss. They are available in powder and spray versions, are reasonably affordable, and are simple to apply. The hair fibers are formed of keratin protein and adhere to your hair, giving it a thicker and fuller appearance while efficiently concealing thinning regions.
What Are Hair Building Fibers?
Hair building fibers are keratin protein-based camouflage materials. They are available in spray or powder form, which you may spritz or sprinkle on your scalp. These strands are charged with static electricity and attach to your hair, supplying natural covering and making it look fuller and thicker. These products come in a variety of colors to complement your natural hair color.
The mechanism underlying these fibers is clever but simple. Let's see how they run.
How do Hair Fibers work?
Keratin is a natural protein that is found in our natural hair. As a result, many hair products have keratin as a critical ingredient for various purposes, including concealing hair loss, strengthening hair, and even straightening it! However, when it comes to fibers, keratin fibers are a fantastic technique to disguise and thicken hair in a matter of seconds.
What is the Technology Behind the Hair Fibers? 
SureThik natural keratin has an inherent static charge that ensures. Fibers stick to every hair type. SureThik Fibers can be broken down into three categories.
ELECTRO-STATICALLY CHARGED FIBERS
Electrostatically charged fibers easily adhere to the hair.
No harsh chemicals are used in the SureStay solution, and fibers adhere naturally.
For a more realistic look, it attaches to individual hair strands and the scalp.
NO CLUMPING
100 percent Natural Keratin Strands blend effortlessly
precision-cut micro-sized fibers that distribute evenly with no clumping.
It has a more natural feel and appearance than synthetic keratin or cotton-based fibers.
MOISTURE-REPELLENT
SureThik fibers are water-resistant and will not run, stain, or smear when wet.
SureThik fibers will not stain or run like other products and can be washed away with shampoo.
Sweat-resistant high-performance fibers are suitable for active people.
Are The Fibers a Good for You?
There was a survey conducted by Columbia University Irving Medical Center which did a study of 400 people experiencing hair loss discovered that 79 percent (about 283 persons) employ camouflaging treatments to mask thinning patches, while 59 percent use hair-building fibers.
Hair fibers can be used if:
You have thin hair that exposes your scalp.
Your hair is flat.
You have grey hair that is thinning.
You want to give your hair more body.
You want to disguise the color difference between your hair and your scalp.
You are experiencing mild to severe hair loss.
5 ESSENTIAL TIPS FOR HAIR FIBERS:
1: APPLY ON DRY HAIR:
Hair fibers must be applied to dry hair to achieve uniform dispersion and avoid clumping. Dry hair also allows you to take advantage of the electrostatic charge of the fibers to form a strong connection with natural hair and supply a great grip.
 2: SHAKE ON LARGER AREAS:
To apply keratin fibers to a broad area, gently shake the container to let the keratin powder to flow through the sieve and settle on the hair: owing to their electrostatic charge, they will quickly connect to the natural hair, giving it a fuller appearance.
 3: COLOR MATCH: 
The hair fibers come in eight natural colors. The best results are obtained by matching your exact shade or a slightly darker shade than your natural hair color. To begin, choose a base or root color. If you can't decide between two colors, go with the darker one. You may also mix colors to create your own distinct hue. Our auburn is ideal for people who dye their hair red or have a stronger red complexion. A medium or light brown hue may be ideal if your hair is naturally red. Grey hair may also be challenging; if your hair is a light grey, emphasizing the grey fibers all over should suffice.
4: LESS IS MORE: 
SureThik recommends that you do not use too many hair fibers for a natural look. In most cases, a tiny account is sufficient to supply a good effect. Finding the perfect amount to use takes a little skill, patience, and experience. Using fewer fibers rather than more makes it easier to achieve a natural look. As a result, you should start with minor amounts and then progress to experimenting with hair strands when you want a more dramatic impact. 
When utilizing keratin hair fibers, the hair fiber applicator, the twist-on pump applicator and the hand comb are must-have accessories. It's a device that can be attached to a hair fibers container. The applicator ensures that the hair fibers are administered more accurately to the places where they are thinning. It also makes uniformly dispersing the fibers easier. As a result, the applicator has a more natural appearance and is excellent for targeting specific areas like the hairline. 

The applicator fits both the 15 grams and 30 grams size hair fiber bottles.