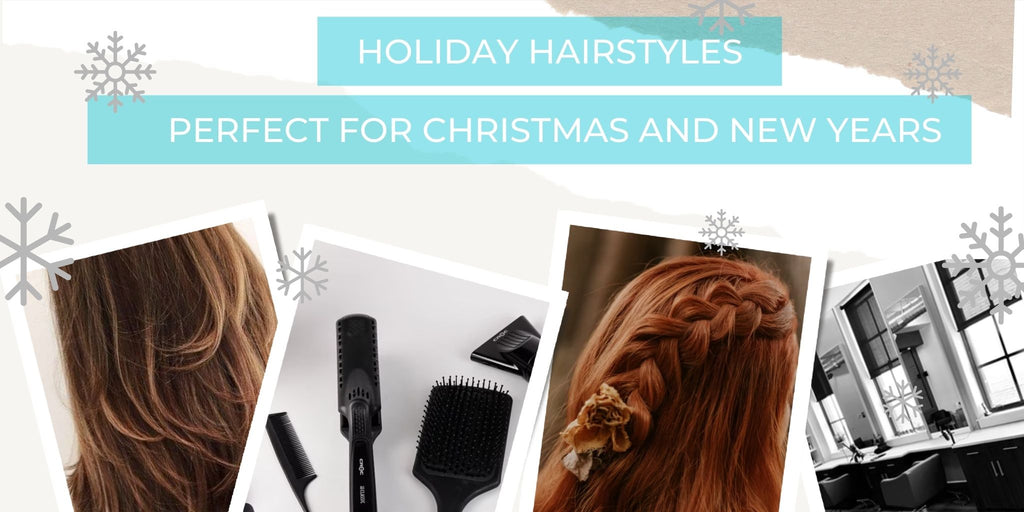 HOLIDAY HAIRSTYLES: Perfect for Christmas and New Year
The halls have been decked, mistletoe has been strung, and the first snow of the season has fallen in the front yard. The holidays are a time of warmth and pleasure, but it's tempting to put off getting ready for the big night until the last minute in the thick of Christmas present buying, party organizing, and gift wrapping! Don't let your hair fall flat during the Christmas hustle this year.
We know you'll need a hairdo that will stay all night, whether you're enjoying a relaxed dinner party with friends to ring in the New Year or attending a big black-tie event.
1: HIGH PONYTAIL: SMOOTH AND SILKY
This is a style we see on the runways all the time. The smooth back ponytail is a basic style that looks great on everyone, but especially if you want an immediate facelift that draws attention to your bone structure. If you've always wanted to know how, keep reading because we've got you covered with a step-by-step guide right here.
Supplies needed:
To begin, flat iron your hair from the roots to the ends. This is what gives it its appearance. If you have flyaway along your hairline or your ends aren't straight and crisp, you won't achieve the same impression.
Apply a little gel to the pony's hairline and the section you desire to pull back.
To tame any additional flyaway, use a smoothing brush and smooth into a high ponytail. It is preferred to begin in the rear and work my way forward. Continue to smooth out any bumps as needed, and feel free to apply additional gel if necessary.

Go back over the pony with the fine-tooth side of a comb after you've got your hair in your palm. During this phase, you may really go close to the scalp and give it that extra smooth look.

Use a ponytail elastic tie to secure the pony in place. Make sure it's nice and tight. Run through the hair one last time to make sure you didn't miss any fly away.

To disguise the elastic tie, take a little part of the ponytail and wrap it around the base of the ponytail.

Once you've wrapped your hair around the base, fasten it with a bobby pin that matches your hair color.
Pro Tip: Finish with a holding spray to give your hair that extra sleek look, especially if you have naturally wavy or coarse hair. If you're having trouble smoothing out your ponytail, try using a bungee ponytail holder instead—the hooks on the end of the ponytail holder make it much simpler to attach the pony without causing extra lumps in the hair.
2: HOLIDAY GLAM CURLS: SMOOTH AND BOUNCY
Nothing beats a head full of bouncy, abundant curls that make you want to flip your hair. With holiday-inspired glam waves, you can take your huge curls to the next level. These waves achieve the right blend between Old Hollywood elegance and current flair, making them ideal for your company Christmas party, a holiday date night, or your yearly family gathering.
To assist you, we've compiled all the greatest techniques (along with a simple step-by-step instruction) for curling your hair with a curling wand. What's the point of a curling wand? Curling your hair with a straightener is the next level, and we're here to help!
1: DRY HAIR: NOT WET
Before using a curling iron, flatiron, or curling wand, make sure your hair is totally dry. Because the cuticle is entirely open and exposed while the hair is wet, applying heat to it is considerably more painful than when the hair is dry. When it's wet, you'll be able to do greater damage. Blow dryers, like any hot instruments, may make your hair weak. Curling irons, on the other hand, deliver heat directly to your hair, therefore you should avoid using them on damp or wet hair. It's critical to keep your hair as healthy as possible if you want to get curls.
Product: Wet Brush: EPIC Professional Deluxe Detangler
 The IntelliFlex bristles in this Wet Brush Pro Epic Deluxe Detangler are flexible on every type of hair, resulting in 45 percent less breakage and 55 percent less effort.
Benefits:  Avoids breakage, reduce split ends, and reduces soreness from brushing.
2: PROTECT YOUR HAIR: AVOID HEAT DAMAGE
When applied before applying heat, a heat protectant for hair acts to protect your strands from harm. It's better to think of it as a protective covering for your hair. A heat protectant is often available in spray, cream, oil, or serum formulations.
Never use a heat treatment on your hair without first using a heat protectant. A heat protectant spray or gel can be purchased from a salon or department shop. To provide maximum protection, apply it to your hair as directed, rubbing it in from your roots to your tips.
How to use:  Before you start styling your hair, use a heat protectant spray on dry or damp hair. Only spray your hair, avoiding your scalp. After using the product, comb your hair to ensure that it is evenly distributed.
Product: Living Proof: Perfect Hair Day Heat Styling Spray
Without the use of silicones, this lightweight heat protectant spray provides touchable, silky smoothness that lasts up to 48 hours.
Benefits: Paraben-free, Color Safe, Vegan, PETA Cruelty-Free, Recyclable materials and Silicone-free.
How to use: Keep the canister 6-10 inches away from wet or dry hair. Apply to sections of hair in a sweeping motion. Using a heat tool, create your look. Finish with a last spritz for more shine and smoothness.
3: BARREL SIZES: TIGHT TO LOOSE CURLS:
Wrapping your hair around a hot curling iron barrel creates a curl. A curl is created every time your hair is wrapped around the curling iron once. As a result, the more hair you wrap around the curling iron, the more curl you'll get. The fewer times you wrap your hair around a curling iron, the less curls you'll obtain. As a result, hair length influences the size of curling iron you use for the hairstyle you want to accomplish.
1 ½ '' Curling Iron: For loose, voluminous curls, the 1 1/2" barrel curling iron is ideal. These bouncy curls aren't meant to be kept for long. They'll gradually tumble into a tousled appearance with a lot of body over the day.
Long hair looks best in this size. Keep portions of your curls tiny when curling; the larger the segment, the looser your curls will seem. To achieve a tighter curl, divide your hair into three sections (bottom, middle, and top) to give your roots more lift and help the curl last longer.
Product: T3: Singlepass Curl 1.25" Professional Ceramic Curling Iron
1 ¼ '' Curling Iron:  For the perfect dirty or loose wave, the 1 1/4" barrel is a fan favorite. If you want to attain the Kardashian wave – and let's, be honest, who wouldn't? – this curling iron is the way to go. This iron generates tighter curls that not only stay longer but also seem natural and effortless.
Use on medium to long hair for optimal results and separate your hair into three sections if you want additional volume (equivalent to 12-inch barrels).
Product: Kristin Ess: CERAMIC 1 ¼'" CURLING IRON
1'' Curling Iron:  The 1" barrel is universally flattering, making it the perfect match if you only have one curling iron for the rest of your life. This barrel may be used to create a variety of styles, from ringlets to waves, polished to beachy. For 1 inch curl inspiration, we look to Lauren Conrad (even after her major trim). It permits the hair to be wrapped around the barrel firmly, but not too many times that the spiral becomes too tight. Instead, you'll have lovely loose curls that are appropriate for any occasion.
This size is ideal for females with short to medium hair. But don't worry, my long-haired pals! I discovered that by using this barrel, I was able to create the ideal spiral without sacrificing any of my length. After all, we worked hard for our locks and don't want to throw them away due to a lack of funds.
Product: GDH: Classic Curl
4: FINISH THE GLAM: HAIRSPRAY
Hairspray may be used before, during, or after curling your hair to give it a grittier texture and to keep it in place.
When using hairspray, avoid getting it too near to your curls. They will get crispy and hefty as a result of this. Instead, hold the can away from your head so that the spray falls in a fine mist around your hair. This will maintain your curls in place while also keeping them smooth to the touch.
Product: SureThik Holding Spray