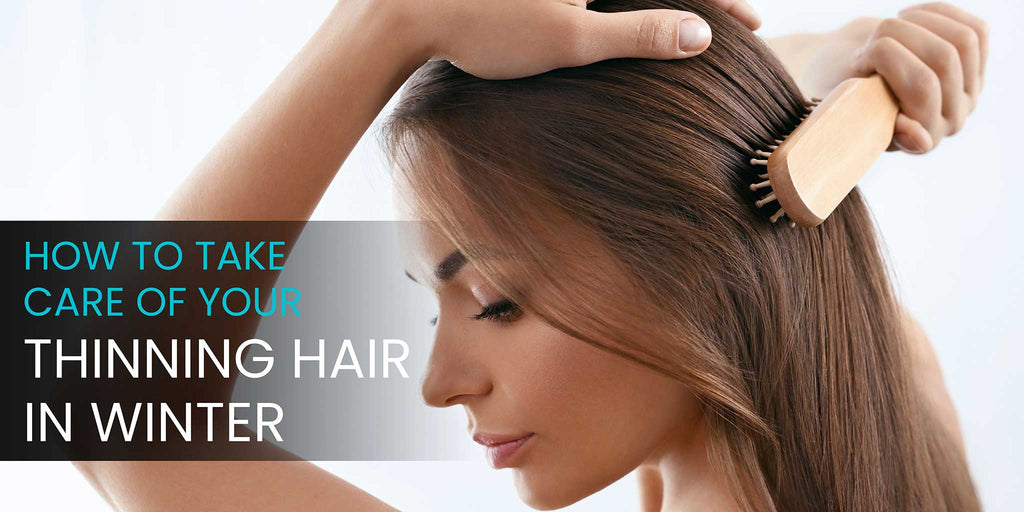 How to take care of your thinning hair in winter?
As winter approaches, you might find that you lose more hair while showering than usual. In the same way that the changing seasons affect your skin's health, hair loss during winter is cyclical. Dry air outside in winter causes your scalp to lose moisture and dry out causing excessive hair loss. When hair is parched, it becomes damaged, breaks, and sheds. Additionally, dry scalps lead to dandruff, which causes itchiness in the head. Combined with the dry air in winter, this can result in a significant amount of hair loss.
Despite the best hair care, this time of year presents its own challenges. Read on to find out what you can do to take care of your thinning hair to prevent it from falling out or breaking.
1. Use the right kind of hair products as per your hair type
There are a number of hair products you can use, including shampoos, conditioners, and masks. A critical part of preventing hair loss is choosing the right hair product. A deep conditioning product may be a good choice if you have dry hair, for example.
Conditioning your hair is a key step in your hair care routine that is often skipped. During winter, it is of the utmost importance. Hair conditioning promotes a healthy and shiny cuticle, which is the outermost layer of the hair. Keeping your cuticles conditioned after every wash ensures that they serve their purpose as protective shields. When buying conditioners, choose one that contains cetyl alcohol, which is considered an effective moisturizer.
Additionally, deep-conditioning hair shampoos are perfect for keeping your hair hydrated and preventing it from drying out and becoming dull and lifeless. You can also use homemade hair packs once or twice a week to give your hair shine in winter.
Here are some popular shampoo and conditioner brands we recommend:
·       Olaplex Bond Maintenance Shampoo
·       Aveda invati advanced exfoliating shampoo
·       SureThik Thickening Conditioner
·       Vegamour GRO Revitalizing Conditioner
2. Keep your hair covered
During the winter months, your hair is often exposed to dry, and windy conditions. Hair is more prone to breakage when exposed to extremely cold temperatures, therefore, we strongly recommend covering your hair. Lining your hat with silk or satin can help prevent breakage when you're wearing wool, cotton, and other fabrics. It's a good idea to use an oil spray under the hat to fight the static charge. Hair oils are nourishing weightless natural oils that can untangle your hair, leaving it glossy and healthy looking.
 Here are some of our favourite dry oils in the market:
·        Argan Oil of Morocco Weightless Reviving Dry Oil
·        Moroccon Oil Dry Scalp Treatment
·         Aveda Dry remedy daily moisturizing oil
3. Ditch Heat Styling
Your hair goes through a lot during winter and using heat styling tools can just worsen the effects, causing more thinning, and hair breakage. The best practice would be to embrace your natural hair and replace blow drying with air drying. Feel free to experiment with different hairstyles like updos, braids, ponytails, and hair buns which require no heating tools. If you are worried about the hair looking less voluminous, try using high-quality hair fibers or volume sprays that can add more bounce to these hairstyles. Hair fibers can effectively help you achieve fuller and thicker-looking hair in seconds. The best thing is that if you invest in high-quality hair fibers, they are natural looking, non-irritant, water resistant, and don't smudge or smear. For best results, style your dry hair with the volumizing spray and finish it off using the hair fibers to achieve fuller, healthy looking hair.
Some of our favourite volumizing hair products:
4. Brush your hair gently
Brushing your hair frequently is crucial to preventing tangling and breakage. Avoid brushing your hair when it's wet because that's when it's at its weakest and becomes vulnerable to breakage, split ends, and damage. It's a good idea to wait until the hair becomes less damp. For regular brushing, try using a wide-tooth hairbrush with smooth extended bristles and pay attention to the technique of hair brushing, as it is just as significant.
Here are some of best detangling tools in the market:

 5. Just don't wash your hair in hot water!
 We're all familiar with the relaxing effect that hot, long showers can have on our bodies and minds during the winter. Often, however, your hair suffers as a result. The very hot water you use to wash your hair can strip it of most of the moisture it has left inside. While we understand how comforting it is to take hot showers, we recommend lowering the water temperature when you wash your hair. Your hair won't be damaged by tying it in a bun or wearing a shower cap before taking a hot shower. It is also imperative to keep in mind that frequent hair washing can also result in dry, brittle hair. We recommend wearing hairstyles that aren't dependent on daily hair washing and using alternatives like hair fibers to reduce damage.