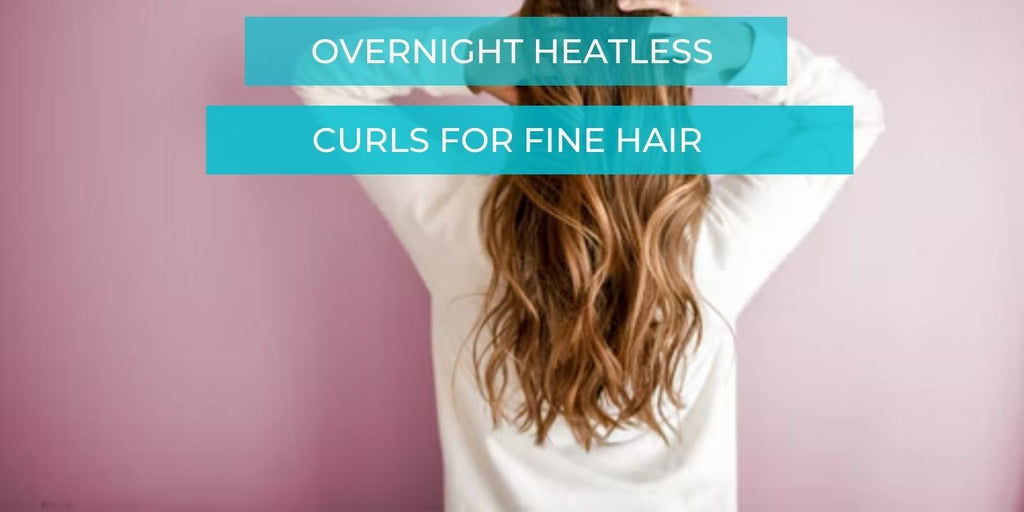 Overnight Heatless Curls for Fine Hair
Exposing your hair to heat, especially on a regular and high-temperature basis, causes breakage and dryness, and is generally extremely damaging. While using a heat protectant before styling your hair can help reduce the effects of hot tools, your hair is still at risk. Furthermore, if you bleach your hair on a regular basis, heat styling it every time you wash it can cause dryness and make your hair more brittle. Simply put, every time you wrap your hair around a curling wand or twist it around some hot rollers, you're zapping the moisture out of it, making it more prone to breakage.
We've found some ways to get amazing curls without using any heat, so you can rock beautiful heatless curls or beachy waves while keeping your hair healthy.
What Is the Definition of Heatless Curls?
Heatless curls are exactly as they sound! Overnight curls or no-heat curls do not require the use of heated tools such as a curling iron or wand to achieve the perfect set of curls. They're a great technique to learn if you want to give your hair a break or try out a new curling method. Furthermore, many heatless wave/heatless curl methods are extremely simple to master!
We'll go over a step-by-step demonstration later, but first, let's talk about why you might want to learn how to do no-heat curls in the first place.
Benefits of Using Heatless Curls: 
1. Easy and Functional: 
One significant advantage of attempting heatless curls overnight is that they are extremely simple to achieve! Particularly with Kit-sch curling set. In less than 5 minutes, you can wrap your hair. Once you've mastered it, you'll be able to do it without even thinking, ensuring a great hair day every night before you go to bed.
2. Healthier for Damaged Hair:  
The main reason I'd recommend attempting heatless curls overnight is that they're much gentler on your hair. While it is acceptable to use heat on your hair on occasion, using a curling iron every day to achieve the desired look can cause damage to your hair over time, making it more prone to breakage, split ends, and dullness.

You won't have to worry about damaging your delicate strands with the no-heat curls method. And, with a little practice, you'll be able to achieve the same amazing results as you would with any heated hair styling tool!

Trying heatless curls/waves is a simple way to keep your hair damage-free, especially if you're looking to give your hair a break or have brittle or hair loss.
 3. Sustainable Alternative: 
You may not realize it, but using heated hair styling tools on a daily basis can consume a significant amount of energy, especially if you leave your tools plugged in all day. If you want to reduce your daily carbon footprint, learning how to do heatless curls overnight is an easy way to do so. Furthermore, the Bamboo Heatless Curls Kit is cruelty-free and made from sustainably sourced bamboo.
4. Cost Efficient: 
once you get the hang of using no-heat-curls, it begins to be a cost efficient tool that you can add to your hairstyle routine. Buying and replacing curling wands and irons can cost hundreds of dollars, especially when you're buying high-quality products.
Step-by-Step Instructions for Using a Heatless Hair Curlers. 
Now that you're super excited to try heatless curls for yourself, it's time to learn how to curl hair without heat (don't worry – it's simple). We'll break it down step by step here. You can also watch the video below to follow along!
1. Begin with clean, dry, or nearly dry hair. Position the headband on top of your head so that each end falls over one side of your hair. If you want, you can use a claw clip to keep the headband in place.
2. The following step in using heatless hair curlers is to divide your hair into two sections. This will ensure that your overnight curls are evenly distributed.
3. Now comes the exciting part! Begin by carefully wrapping small sections of your hair around the headband to achieve beautiful no-heat curls. As you go, add a little more hair to each section.

4. After you've finished wrapping your hair, secure it with a scrunchie. Hair ties should be avoided because they can cause dents in your hair.

5. You've mastered the art of curling hair without using heat! You can now sleep on the curls overnight or simply wait a few hours before unwrapping your beautiful overnight curls!
Tip: To make sure that your hair stays bouncy and perfect you can use SureThik Hold Spray to locking the beautiful curls. The spray restores the necessary luster to the hair and, unlike traditional hair sprays, can be brushed for up to 15 seconds after application before setting.